De Bouwmaat vestiging in Amersfoort heeft de ASPOS ESL module met de elektronische schaplabels (ESL) van Samsung zusje Solum in gebruik genomen. Nick Vieberink, manager Marketing en Ecommerce van Bouwmaat: "Dit is een mooie stap voorwaarts in onze strategie om klanten efficiënt en effectief te informeren over prijzen en productspecificaties in een steeds dynamischere markt."
Bouwmaat timmert voortvarend aan de weg als groothandel in bouwmaterialen en gereedschappen voor vakmensen. Achter elkaar voert Bouwmaat vernieuwingen door waaronder ook een app voor klussers en een long tail kiosk in de compact winkels. Dit legt Bouwmaat bepaald geen windeieren getuige de dubbelcijferige omzetgroei in 2020. De toepassing van elektronische schaplabels past helemaal in de koers van Bouwmaat om de customer experience omnichannel te optimaliseren in de 49 vestigingen.
Jeroen de Haan, manager Supply Chain, Technologie en Informatie van Bouwmaat: "Naast uitgebreide productspecificaties tonen de labels bij Bouwmaat ook kortingsacties en volume staffels met een extra steunkleur rood. Voor duurdere apparatuur werkt Bouwmaat met grote labels waar meer informatie op past. Bij wijzigingen van producten info, acties of prijzen worden de labels volautomatisch aangepast vanuit de ASPOS cloud. Zo wordt alles omnichannel en realtime doorgevoerd op onder andere de elektronische schaplabels, kassa's, kiosken, app en webshop."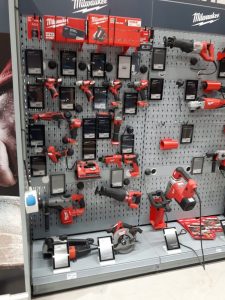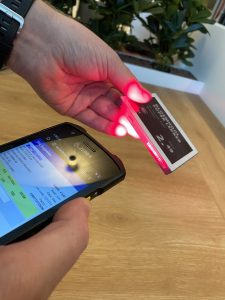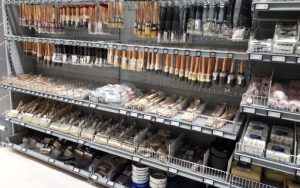 Solum is onderdeel van Samsung en wereldwijd marktleider in ESL met state of the art oplossingen. De nieuwste generatie schaplabel draait maar liefst 10 jaar op één batterij, doordat de labels alleen stroom trekken bij een wijziging. Daarna blijft de digitale inkt zonder stroom op het e-paper van het label staan. De ASPOS ESL oplossing van Valk Solutions is kant en klaar off the shelf met de allerlaagste TCO (total cost of ownership) in de markt. De kosten zijn zo laag omdat aan deze integratie standaard API interfaces te pas komen en geen stroom rails nodig zijn. Dankzij de nieuwste wifi technologie kunnen circa 5.000 labels met één access point toe, dus ook zeer lage infra kosten.
Valk Solutions is solution partner van Solum voor ESL en heeft een volledige integratie ontwikkeld met de REST api van ASPOS. Nieuwe labels worden eenmalig met de ASPOS PDA gekoppeld aan de producten. Daarbij kunnen meerdere labels op verschillende plekken in de winkel aan hetzelfde product gekoppeld worden. Daarna verloopt de aansturing van de labels gewoon vanuit de ASPOS cloud. Prijzen en andere productspecificaties kunnen centraal gewijzigd worden in de ASPOS suite en worden helemaal zonder handwerk tot en met het schap digitaal en realtime doorgevoerd.