Be ready for today and tomorrow
Increase your strength and boost your sales with the omnichannel retail platform ASPOS, 100% online and realtime with the lowest total cost of ownership. Whether you're an entrepreneur with one or more stores, or a retail organization with multiple stores ASPOS' all-in-one software solutions boost your sales. Integrate your e-commerce into your business and make sure your customers have an excellent customer experience. With ASPOS you can manage your webshop and your stores in one hand.
Be more efficient with our order- and warehouse management solutions and keep your data up-to-date with our solutions for product data management. We help you power up your business.
Discover the power of ASPOS
Boost your sales and eliminate empty shelves
Our solutions feature everything you need as an entrepreneur to effectively manage your store(s) and maximize your commercial strength. Innovate your business and spare time to cater to your customers and give them what they need. Bring your store(s) online and benefit from a strong platform tailored to your needs as an entrepreneur.
Manage your retail chain successfully no matter how many stores you're running. Take and keep control over your business and innovate at the same time. Keep your customers happy and make new ones. Start today: leverage the power of our software and grow your business. Integrate your webshop and distribution center and manage your organization based on one truth throughout the entire chain.
Sell more by a strong combination of stores and webshop. Don't cannibalize but reinforce your stores with an omnichannel webshop and create one experience in all channels. Combine orders for your stores and webshop in one logistic flow. With our platform, you can do it and so much more.
ORDER AND WAREHOUSE MANAGEMENT
Smartly and easily manage every aspect of your warehouse and maximize your inventory efficiency in realtime at any time of the day. Control your ordering and (re)stocking, optimize your inventory and automatically restock. Take control, be efficient and grow your profitability; you can do it all with our solutions.
Product data are essential to be successful in retail. Both in stores and e-commerce, you need to rely on accurate and up to date product information. Our product data management services support a seamless operation. We collect data from suppliers and make them available for your users across your entire chain. New products and prices are processed daily. As are purchase orders and packing slips. All fully digitalized to unburden our customers.
SUBSCRIBE TO OUR NEWSLETTER
Get access to exclusive market and product specific content. Subscribe now!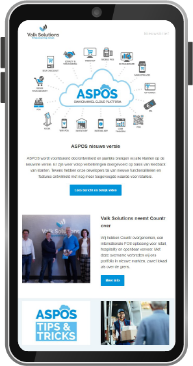 Gain more insight and get your free ASPOS
brochure here.
Register to our first webinar about POS in fashion
Save the date!