Why did you choose Valk Solutions 5 years ago?
I am a real people person, I really enjoy working for and with people, helping people where I can. 5 years ago, I worked in the supermarket for almost 15 years. That was a conscious choice after my IT training. Partly because I could be very customer-oriented there as a manager. However, after 15 years, the career opportunities within the supermarket stopped a bit. Then Valk Solutions crossed my path. Here I could combine the experience of working with people within the supermarket, with my IT training.
How did you experience the first period at Valk Solutions?
Like a fast train, Valk is an ambitious company that wants to help customers quickly and in the best way in its own way. You notice that immediately when you enter. We do everything for the customer. Partly because of this, the pressure is high at times, an extreme amount is coming at you. You have to master and learn all the different systems. I was not at all familiar with the many calls, you didn't have to do that in the store. So, you must go with this and learn to deal with it. I also indicate this in every job interview with a new Support Consultant. Valk is a fast train. You have to catch it and don't get off. But if you can stay on it, it is an educational, fun and challenging job.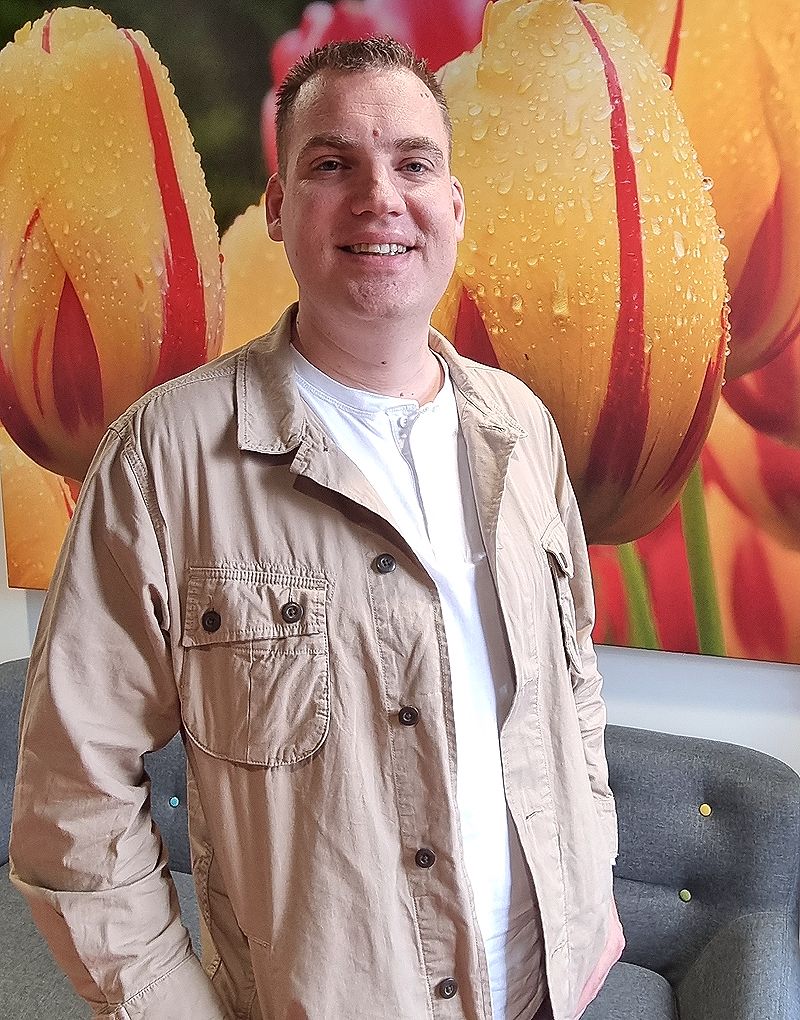 Is it always all roses? What was your best moment?
No, certainly not, nowhere and not here either. There are days when you are completely being lived at customer service by the customer and your colleagues. Partly because there may be an issue somewhere for a customer that needs to be resolved quickly. Then the pressure is on, and you have to perform. Honestly, I'm my best when the stress is the highest and the stakes extreme. My best moment? Is there more than one? Making customers happy when you have solved a complicated problem. Think of training a Support Consultant. Getting them completely ready for another position within the company and preparing them as best as possible. I can go on like this for a while.
How do you experience the career opportunities at Valk?
The career opportunities within Valk are versatile. Most new colleagues enter customer service. It is really seen as a breeding ground for the company. There you get to know the company and look for the place where you fit best. I also started as a Junior Support Consultant 5 years ago. That fast train went very quickly for me; within 3 years, I was already a Senior in the department, and I single-handedly contacted the head office and the most complex cases. It wasn't over after that. Valk continued to grow, and so did customer service. To steer all this in the right direction, Valk then chose to put me in the position of first-line team leader. Partly due to the experience I had already built up, I was able to position myself well there and train my new colleagues to become fully-fledged Support Consultants. After a year, I was asked to become a Customer Service Manager. I have been in that position for 6 months now. So, to answer the question of how I personally experienced growing up? Yes, insane. Within 5 years, I grew from Junior Support Consultant to Manager of Customer Service. When I look at the rest of the company, I can point out several colleagues in all departments within the organisation who (together with me) have worked in customer service. All MT members have their roots in customer service, there are Business Consultants, Product Owners, Testers, Service Engineers, and Application Managers, all started as Junior Support Consultants. This is Valk's vision. Customer service is a breeding ground for the entire organisation.
What do the next 5 years look like for you?
I've just moved on to Manager Customer Service; I have much to learn there. I'm not done there just yet. In the coming years, I will improve my team, improve the standard processes within customer service, keep the service high and train many new colleagues to be of priceless value within the organisation.